Start the journey 
to your LIFE-PURPOSE
Nine-month 
personal development and professional program

 to find your true role in life
The adventure to 
get to know thyself
People who look for their life purpose are facing a big transformation. They need courage and support to walk that way. Due to the social programing and expectation few of them are where they really want to be and are afraid and discontent with their work, partner, colleagues, the conditions, their boss, relationships. Discontent is the first symptom of a coming change. The bigger the discontent, the stronger the motivation for change.  
Your calling is the awareness of who you are and what you want. Life purpose is often defined as a job. But it is much more than this. When you know our life purpose and the direction of your life you can choose your job and everything else in life and be in harmony with your inner personality. The journey towards your life purpose is the answer to the question "Who I am?".
9 months are needed for a life to be born. In 9 months you will give birth to your new YOU. 9 months you will:
share
discuss
create 
have fun
find the spring of your internal power
change
If you want to walk that way and start this exciting journey within, CALL ME!
need to have a sense of direction;
intuitively feel that have a lot to give to the world;
are not satisfied with their current life situation;
want to overcome their fears and doubts;
want to know their talents and strengths;
are READY to take action!
Group or individual

 format
The group program consists of:
7 modules;
two sessions per month;
Personal Manual with exercises, role plays, methodologies, questionnaires and self-reflection questions.

An opportunity to join a support group after the program.

A group of not more than 5 participants.
Call me NOW!
Get to know the 
modules

 of the program
Module 1 – The Journey Starts
We shall seek the answers to the questions What is a calling? What are the barriers? Which is my way? What do I need for the journey? You will create your personal  vow and will define your intentions  and goals!
Module 2 – Direction And Awareness
We will set goals for the program and for our life. We shall define our direction and will prioritize. We shall make the first step… 
Module 3 – My Core Values
What are our core values? They are our main stimulus for life. They define us. To know your core values means to know yourself, to be able to set goals, make choices and take decisions. They are our internal motivators that show us the way. In this module I will elicit the core values of the participants and everyone shall have their first mission statement. 
Module 4 – My talents And Gifts
In this module we shall review our talents and gifts, shall meet our true passion and will discuss the early childhood programing to determine our constructive and unconstructive patterns and ask the synchronicities in our life for the direction.  
Module 5 – Life Purpose Statement
We are now ready to formulate our spiritual life purpose statement to understand what our soul has chosen to learn in this life. 
Module 6 – The Roadblocks
Self-esteem and confidence are the main focus of this module. We will assess them. We will analyze them. We will identify the limiting beliefs and will prepare our Learning and Development Plan. We will say NO to BUT, will release the benefits from our unconstructive patterns and will choose the empowering beliefs that will help us grow and take back our POWER! 
You will:
find your period purpose for the next 2 to 5 years;  
prepare your Manifesto; 
plan the first steps;
define your personal type; 
discover the jobs that match your personality. 
Sounds interesting?
Visit my blog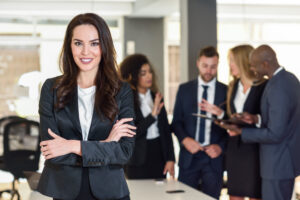 Защо развитието на личността е важна за успеха на бизнеса? Светът се променя. Променят се старите парадигми за преследване на резултат и печалба и отстъпват място
Прочети »
100 ПРИМЕРНИ коучинг ЦЕЛИ Какво са целите, ако не списък с мечти с краен срок. Когато поставим дата на някоя своя мечта, тя става постижима и
Прочети »